Welcome to our ' Best Camping Stoves for Bivouac Adventures ' guide
There's a wide selection of different camping stoves on the market. To help you narrow down your choices we've compiled some of the most highly rated and best camping stoves being sold online.
How to choose your ideal camping stove
Different types of camping stoves explained
Gas canister camping stoves
Butane and propane closed gas canisters are by far the most popular choice of fuel for campers. Most cannisters are supplied as a blend of gasses for optimum performance. Gas gives an instant, adjustable heat, with very little maintenance required. Gas canisters are widely available to purchase, are lightweight and easily portable.
Solid fuel camping stoves
Solid fuels such as meta fuel, hexamine and wood produce a soft flame which is good for calm weather conditions. If you're burning wood make sure it's sustainably sourced and ideally kiln dried so it lights easier and burns more cleanly. Solid fuel burning stoves are often small and compact but running them can get expensive if you're using it as your main stove. We think solid fuel is best for quick jobs such as boiling water and warming meals through.
Solar-powered camping stoves
Solar power is an increasingly popular energy method for camping. While the initial expenditure on solar powered equipment can be more than other alternatives, the cost of repurchasing fuel is completely removed. The biggest consideration if you're considering solar is whether you'll be winter camping and if so, you may find you need a back up such as a gas stove.
Liquid fuel camping stoves
Liquid fuel camping stoves burn substances such as paraffin and petrol. While these are ideal for remote camping, where other fuels may be hard to come by. Most require priming which can take up valuable time, however, if you take care of them and don't mind the maintenance, they can last for years.
Here's our expertly picked list of the best camping stoves on the market whether for camping, survival or a bivouac adventure.
Top 5 Best Camping Stoves For Bivouac Adventures
(in no particular order)
2) Extremus Portable Camping Stove
4) TOM SHOO
We hope you love the products we recommend! Just so you know, we may collect a share of sales or other compensation from the links on this page. Thank you if you use our links, we really appreciate it!
Camping Stove Ohuhu Stainless Steel Backpacking Stove Portable Wood Burning Stoves for Picnic BBQ Camp Hiking with Grill Grid.
Wide Compatibility: You Can Fit Just About Any Pot or Pan on This Handy Portable Wood Stove Thanks to the Sizeable Cooking Surface. Whatever the Situation Calls For, You Can Boil Water, Cook Food, or Just Make a Nice Fire for Heat and Enjoyment. It Can Do It All!
Use Wood, Gas and More: What's Great About This Stove is Its Wide Compatibility with All Sorts of Fuel Types. Not Only Can You Use a Traditional Gas Tank Or, Solid Fuel Tablets, but You Can Also Use Any Type of Wood You Might Bring or Find Along the Way. It's a Cost-effective and Eco-friendly Way to Cook and Enjoy Nature.
Extremus Portable Camping Stove, Backpacking Stove, Hiking Stove, Pocket Stove, Mini Camp Stove, Compact Wind Resistant Camping Stove for Backpacking, Hiking, Camping, and Tailgating, Ultralight
Compact design for easy storage and travel (1.5"x 2"x3.2") – Adjustable cooking surface – Durable aircraft aluminum construction – Includes draw string storage bag and folding utensils
The Extremus Portable Camp Stove is made from durable yet lightweight aircraft aluminum making it ideal for all your hiking and camping adventures. It folds down to only 1.5"x 2"x 3.2" and easily fits into a hiking backpack or travel bag.
Use butane/butane-propane single fuel canisters to power your stove. The 7/16" threads are compatible with most standard canisters. Note the Extremus Portable Camp Stove does NOT fit onto standard propane canisters. Fuel is not included.
Extremus Portable Camp Stoves comes with a handy storage bag, includes as a bonus one compact folding fork and one compact folding spoon.
VIRE Stove Mini – A Foldable Rocket Stove – Light & Portable For Outdoor Cooking When Camping, Backpacking, Hiking, Travelling, Fishing or Hunting.
The VIRE Stove Mini was developed by the VIRE team, and it is Patent Protected
Easily place in your backpack or the trunk and you are ready to cook in minutes — almost anywhere.
Which makes it extremely easy and simple to open and fold the stove in seconds.
Made with the highest quality durable stainless steel.
We'd like to keep mother nature clean and so fuel for your cooking experience will be organic sources you can find wherever you travel – Sticks, scraps, twigs, leaves.
 You can also use charcoals and wood pellets.
Unlike LPG bottles, you can take it on a plane. This means you won't waste time and effort on finding the right adaptors when you're visiting foreign countries.
TOM SHOO Camping Stove Camp Wood Stove Portable Foldable Stainless Steel Burning Backpacking Stove for Outdoor Hiking.
Made of durable stainless steel, this portable camping stove built to last long even under high heat. The stable stands allow your cookware to stay firmly when you are cooking.
Wide opening makes it easy to add wood; Double-wall structure allows full combustion; The vents at the bottom improve air circulation to help the fuel burn more completely with less smoke.
The camping stove is lightweight and easy to fold, and comes with a mesh bag so that you can hang it on your backpack and enjoy a warm meal anywhere you camp.
You may burn wood, twigs, leaves or branches as a fuel source while you are hiking or camping . The backpacking stove also includes a tray to hold solid alcohol fuel.
The TOMSHOO camping stove is suitable for camping, hiking, backpacking, picnic, BBQ, outdoor survival and adventures. Note: Wood stove only, the pot and other items in the picture are not included.
OAKVUE Portable Camping Stove – Stainless Steel Camping Cookware – Lightweight Backpack Stove – Mini Wood Burning Stove for Camping and Bivouac – Gasifier Camp Stove – Fire Bellow Lighter Bonus.
Enhanced with double-wall construction, our camping stove is using the cool airflows that enter through the holes to fuel the ignited wood inside the stove. This mechanism allows the wood to burn steadier and decreases the smoke output.
The wood burning stove is designed with a wide opening, making it easier to insert wood or other fuels. After lighting up the wood, the air holes at the top help in control the fire better, making it last longer and burn the wood completely.
The camping stove has a compact, lightweight design, which makes it very easy to be carried in your backpack. It is a very practical tool for camping or hiking because it is a space saver and it is very easy to install and use.
At OAKVUE, our priority is quality. That is why we designed this lightweight backpack stove with pure stainless steel. The material can resist high temperatures and ensures stability when you place a heavy pot on top.
Classed as one of the best camping stoves for bivouac adventures.
The mini wood burning stove is very easy to use. You only need to place the stove on the air hole base, then put the ash box in the combustion chamber and light it up with our bonus accessories, fire bellow and lighter. Now you can place the stove hob on top and prepare your favorite food.
Summary – Best Camping Stoves for Bivouac Adventures
To summarize not all camping stoves are the same. The quality and durability really depends on your budget for a camping stove.  Our buyers guide showcases camping stoves for a variety of budgets. 
Found something we've missed? Let us know what camping stove works best for you!
So we hope you enjoyed our ' Best Camping Stoves for Bivouac Adventures ' guide, if so please consider sharing.
We hope you love the products we recommend! Just so you know, we may collect a share of sales or other compensation from the links on this page. Thank you if you use our links, we really appreciate it!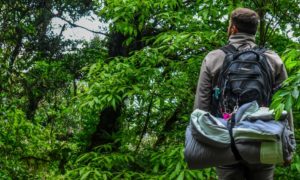 Welcome to our ' Best Camping Stoves for Backpacking '...
Read More