What is Bivouac ? – Bivouac Adventure Beginners Guide
Welcome to our What is Bivouac ? Bivouac Adventure Beginners Guide
So What is Bivouac ? Bivouac is a French word meaning a temporary camp without tents or under little cover, used especially by soldiers or mountaineers 'an army without an home'. 
The word Bivouac derives from an 18th-century Swiss German usage of beiwacht (bei by, wacht watch or patrol).
What is the best definition of bivouac ?
Usually temporary encampment under little or no shelter. Encampment usually for a night temporary or casual shelter or lodging.
What is the difference between bivouacking and camping ?
Because there is no clear definition for the word bivouac. So for some people the meaning of bivouacking – for example, mountain camping with a one person tent – is already camping for others.
Nevertheless, it can be basically said that bivouacking is generally understood to mean an outdoor overnight stay with reduced means. Camping, on the other hand, places value on a certain level of comfort – the mere fact that you always have " fabric over your head " when camping and not when bivouacking in many cases speaks for itself.
In Summer, bivouacking often doesn't even require a bivy bag. If the weather is stable and the conditions are dry, and efficient sleeping bag is sufficient.
We hope you love the products we recommend! Just so you know, we may collect a share of sales or other compensation from the links on this page. Thank you if you use our links, we really appreciate it!
What bivouac equipment do i need ?
What bivouac equipment do i need ? well in truth as little as possible.  The less you have to carry the better !
Some necessities to consider:
Sleeping mat
Sleeping bag (Bivvy bag)
Cover taupe or a single person tent
Outdoor kitchen and provisions
Fuel
Lighter/matches
Cooking pot
Eating utensils (plate, bowl, cup)
Cutlery
Pocket knife
Multitool (with can opener)
Water bottle
Special Equipment for Winter bivouac
obviously the equipment list changes for the different seasons, so for winter you might consider:-
Down sleeping bag
Thermo-insulation pad
Down jacket / insulation jacket
Touring pants
Gaiters
Long thermal underwear
Mittens/gloves
Bivouac shoes
Warm hat
Ski touring equipment or snowshoes
How to create a Bivouac Shelter
How to create a Bivouac Shelter –
a Bivouac shelter should be as simple as possible in some cases just a taupe to keep the rain away.
Keep in mind that extra equipment may be needed in addition to this bivouac packing list, depending on how you intend to arrive at the bivouac site of your choice.
So finally we hope you enjoyed our ' What is Bivouac ? – Bivouac Adventure Beginners Guide ' if so please consider sharing this really helps us out!
You might also be interested in: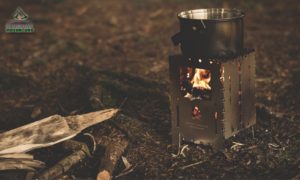 Buyers Guides
Welcome to our ' Best Camping Stoves for Bivouac Adventures ' guide There's a wide selection of different camping stoves on the market. To help
Read More »